Tradition for Gourmet Palates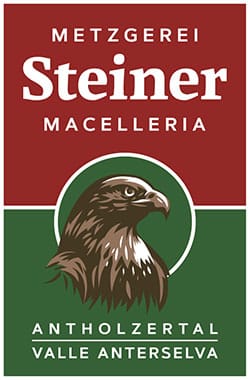 South Tyrolean Quality Sausage products for Gourmets
A Variety of South Tyrolean Sausages and Smoked Delicacies
Discover the special taste of our sausage products and smoked specialties. They fill every palate with variety and pleasure. All sausage products and delicacies are refined according to the traditional recipe of the family Steiner. So, from fresh raw products, selected spices and traditional craftsmanship high quality sausage specialties can be produced.
Smoked Sausages, Salami etc.
A Careful Processing for First-Class Products

A Well-Rounded Delight from Selected Ingredients…
A variety of flavours of the highest quality. High-quality raw materials and selected ingredients, carefully processed by us and naturally matured. Genuine traditional pleasure from the Alps, from mild to spicy.
Smoked sausage | House salami | Paprika salami | Beef salami | Lamb salami | Cacciatore Steiner

The Wild and Natural Side of South Tyrol
Finest morsels for lovers of venison, chamois or wild boar. Made from top quality fresh meat and processed in our own venison centre. Culinary venison specialties with character!
Venison salami | Smoked venison sausage | Venison ham | Chamois salami | Chamois smoked sausage | Chamois ham | Venison salami | Wild boar salami